Stardew Valley review
Stardew Valley is a farming simulation game created by ConcernedApe and published by Chucklefish Games. The game was first released on February 26, 2016, and is available for PC, Mac, Linux, Xbox One, and Playstation 4. Stardew Valley is a game created by the one-man development team of Eric Barone, also known as ConcernedApe.
It is considered a "farm simulator", and the player has the ability to take on the role of a character who has inherited their grandfather's old farm in the Stardew Valley region, located in the fictional county of Pelican Town. The game is set to be released for Microsoft Windows, OS X, and Linux on February 26, 2016 and will be available on PlayStation 4 and Xbox One in 2017. Download at PlayStation Store.
Gameplay
Gameplay in Stardew Valley includes tending to a farm, planting and harvesting crops, raising livestock, mining, foraging, fishing, cooking, and socializing with the town's residents. Players are also able to craft items such as cheese, wine, and beer. The game is an open-ended, sandbox-style, pixel-art RPG that is centered on the player managing a farm.
The player can create their own character, and then must do their best to raise crops, plant seeds, harvest plants, and populate their farm with animals. The game is played from a top-down perspective, and features turn-based combat. The player can upgrade their house to include a kitchen, a bathroom, and a bedroom, and they can also purchase upgrades for their farm.
Graphics
The graphics of Stardew Valley are quite simple. The game uses a pixel-style art and is not very visually intensive. The game features colorful, retro-style graphics.
Replayability
Players have the option to play the game in a variety of ways. They can choose to focus on farming, mining, foraging, fishing, cooking, or socializing with the townsfolk. Stardew Valley offers a lot of replayability, given that the player can take on the game in many different ways. There are many activities to do, with a variety of different outcomes. The player can also play co-operatively with friends and family, and can interact with them through the in-game chat.
Pros
There is a deep storyline that continues to evolve as the player's farm grows
Players are able to customize their farm to their liking, as well as purchase new buildings
Players can craft a variety of items, as well as raise animals
Players can befriend the townsfolk and learn about their everyday lives
This gives the player more of a sense of belonging
The game has a day/night cycle
Cons
Players can become bored with the game if they don't like tending to the farm
The game can be challenging for new players because they have to invest a lot of time into it
The pixel-style art may be too simple for some people
Screenshots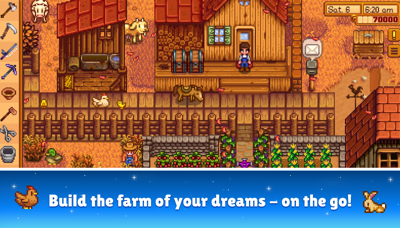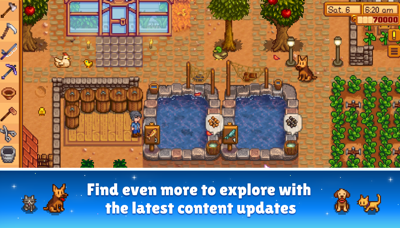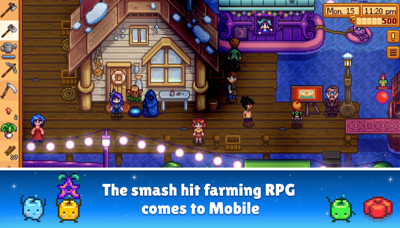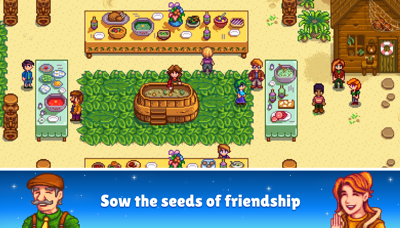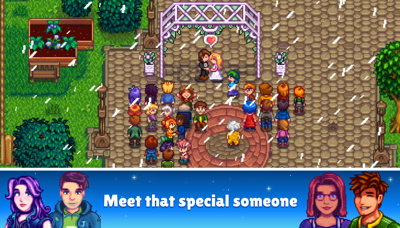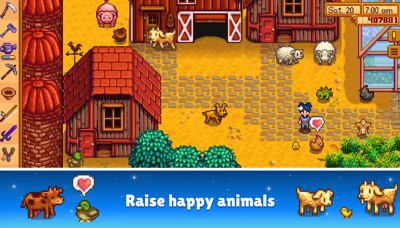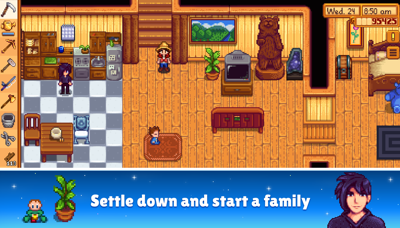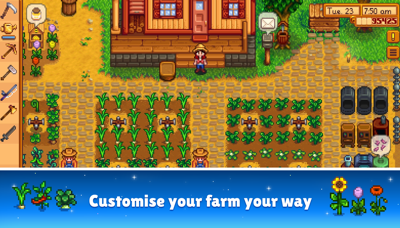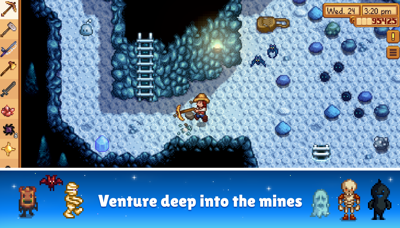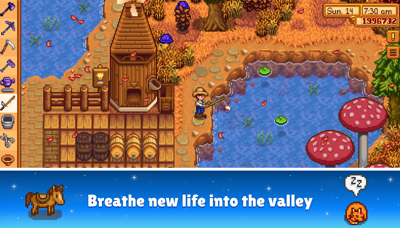 Related games